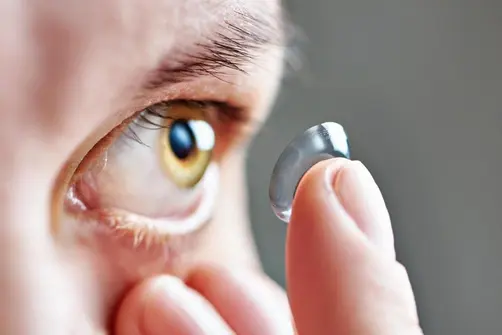 Taking care of your eyes and preserving your vision are smart investments in your overall health. If you have noticed you are having trouble seeing clearly without visual aids or if you wear glasses but are interested in other options, talk to our eye doctors at Primary Eyecare & Optical of Meridian about getting a contact lens exam. A typical eye exam covers general eye health and tests for eye conditions as well as visual acuity. If you are considering contact lenses, we will need to test a few additional things.
Getting a Contact Lens Exam
The eye exam needed to evaluate your eyes for contacts begins with the same components of a standard eye exam. Our eye doctor will want to check your eyes for the onset of any eye illnesses, not only to address those issues but to see if any of those conditions would prevent using contact lenses. Dry eye syndrome, for example, might prevent you from comfortably wearing contacts and an evaluation of your tear film may be necessary.
You will go through tests for glaucoma, have your eyes dilated so that parts like the retina, macula, and optic nerve can be examined for wear and tear. We will also need to determine how well your eyes work in sync with each other in case any lazy eye issues need to be treated. You will still need to read an eye chart with various lenses to narrow down your prescription.
How Contact Lens Exams Differ
When your vision is examined for a prescription for glasses, the prescription fits lenses that will sit at a distance in front of your eyes. Your contact lens prescription will differ because there will be no gap between your eye and the corrective lens.
To make sure you get the right lenses, a contact lens exam also includes taking exact measurements of your cornea and its particular curvature using specialized instruments. Our eye doctors use a keratometer to get these measurements and to determine the correct lenses.
Types of Contacts
Based on how much you wear your lenses and what your daily environment and routine look like, you will have a choice of soft contacts or rigid gas-permeable lenses. There are also multiple options for the duration of use: one-day disposable lenses, two-week, monthly wear, and overnight lenses. Primary Eyecare & Optical of Meridian can provide contacts with bifocal or multifocal prescription lenses. We also carry hard to fit, cosmetic, and prosthetic lenses.
Get Your Contact Lenses in Meridian, MS
If you are thinking about contacts or need to schedule an eye exam, our team at Primary Eyecare & Optical of Meridian is here to help. Call us today at (601) 282-2300 to schedule an appointment with one of our eye doctors.